Wear Resistant Steel: 1.2343 Spherical Powder
Alternative designation: H11/T20811
1.2343 hot work tool steel with high-temperature strength and wear resistance with high thermal shock resistance. Plastic molds, die-casting, and extrusion tools for light metal. Good toughness and thermal conductivity. 1.2343 is used for forging dies, forging tools, hot shear blades, hot extrusion tools, punches, screw tools, steel pins, and ejectors.
Powder characteristics:
Chemical Composition [ wt.% ]
Element Min Max
Cr 4.8 5.5
Mo 1.1 1.5
Si 0.8 1.2
C 0.33 0.41
V 0.3 0.5
Mn 0.25 0.5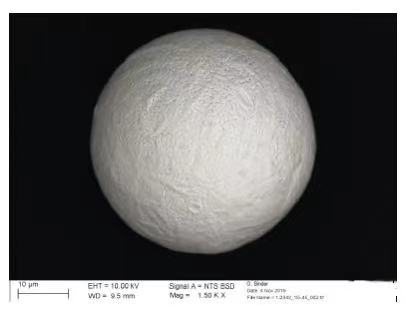 Powder production:
We developed a unique powder production process to provide perfect spherical powders (patent pending). Any metal or alloy can be atomized according to your needs. Our processes are run with Argon as atomization gas in a dust-free production environment to guarantee maximum product quality. Any process (production, classifying, screening, packaging) can be done under Argon 5.0, so oxygen-free production can be guaranteed.
Powder screening:
With various screening technologies (Cucciolini, Russel-Finex, Kellner) we can screen your powder at grain sizes from 10 to 1000 microns.
Powder classifying:
With our state-of-the-art classifiers (Noll) we can provide narrow particle size distributions, produce ultrafine powders (d99<5 microns) or remove dust from your powders.
Packaging:
We pack the powders according to your needs and manage transport organization.