Tantalum has excellent corrosion resistance to concentrated alkali solution, alkaline and neutral solution media of carbonate, nitrate, chloride, vinegar and other salts. It is also resistant to fatty acid corrosion and stable in atmosphere, fresh water and sea water.
Application: alkali industry, chlor-alkali chemical industry and organic chloride production, food processing, production of vacuum electrical parts, electronic meters, water treatment, high temperature halogen, etc.
Tantalum mesh is made from stamping expanding Tantalum sheet, which is ASTM B265 specified commercial pure Tantalum sheet since the strength for alloyed Tantalum is too high to be stamped into mesh. The width and length of the mesh we can provide will be the same with the sheet.
Specifications of HM Tantalum Mesh:
| | |
| --- | --- |
| Name | Tantalum Mesh |
| Material | Tantalum, UNS R05200, UNS R05400 |
| Processing | Expanding |
| Raw Sheet | ASTM B708 |
| Mesh Open Size | Customized. Eg: 9mm x 4.5mm (length of the diagonal diamond) |
| Mesh Size | Customized. Eg: 1.2mm x 1000mm x 2000mm in coil |
| Mesh Stem | Customized. Eg: 1.2mm |
We provide custom Tantalum Mesh according to your request.
Applications of Tantalum Mesh:
Tantalum Mesh can be used in mixed metal oxide and platinized Tantalum anodes for the cathodic protection industry. While mixed metal oxide anodes are mainly applied in heat exchangers, oil and gas pipelines, etc.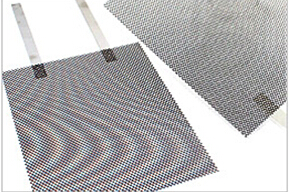 Packaging of HM Tantalum Mesh:
Tantalum Meshes are clearly tagged and labeled externally to ensure efficient identification and quality control. Great care is taken to avoid any damage which might be caused during storage or transportation.
Chemical Composition:
| | | |
| --- | --- | --- |
| Element | R05200 (%,Max) | R05400(%,Max) |
| C | 0.01 | 0.01 |
| O | 0.015 | 0.03 |
| N | 0.01 | 0.01 |
| H | 0.0015 | 0.0015 |
| Fe | 0.01 | 0.01 |
| Mo | 0.02 | 0.02 |
| Nb | 0.1 | 0.1 |
| Ni | 0.01 | 0.01 |
| Si | 0.005 | 0.005 |
| Ti | 0.01 | 0.01 |
| W | 0.05 | 0.05 |